I must say that this is the most delayed review I've ever written and it pains me to admit this. You see when I received Sweet Paleo in the mail a few months ago I was captivated. The photos and recipes completely sucked me in and I had so much to say about it to y'all and then life happened.
I have literally been eyeballing this book on my desk everyday and thinking, "Jen, do this, it deserves to be shared with the world." Lea from Paleo Spirit is truly a special person. She is a fellow Texan and has that Texas soul that is so easy to connect to. Now you know that I am being sincere because Lea went to Texas A&M (I am a University of Texas grad myself) and you know how that goes!
But seriously, when I got this book I first was awestruck by the beautiful moody rich cover, but that was just the beginning. Once I cracked the spine, I realized how much more was inside. The treats are mouth-watering and gorgeous to look at but one of the best parts of the book to me was how simple the recipes were. Most of the recipes have 5-7 steps and are not too contrived or overthought. They are straightforward recipes that produce incredibly gourmet results.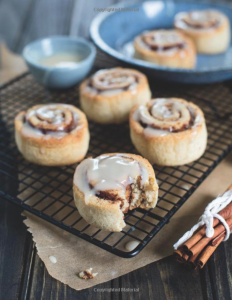 Inside you'll find recipes like Pecan Praline Cheesecake, Cinnamon Rolls, Mexican Chocolate Mousse, and Tiramisu are just a few of the killer recipes Lea has shared with us. I mean seriously y'all… Paleo Freakin' Tiramisu. That's just insane.
Today I get to share with you these scrumptious MAPLE MARSHMALLOWS!
Ingredients:
3 tablespoons unflavored grass-fed gelatin or vegan equivalent
1 cup filtered water
1 cup pure maple syrup
1/4 teaspoon sea salt
2 teaspoons pure vanilla extract
2 tablespoons tapioca flour
2 tablespoons confectioners' sugar
Grease an 8 inch square baking dish; line with parchment paper with the ends hanging over two opposite sides. Sprinkle the gelatin over 1/2 cup of the water in the bowl of a stand mixer; let sit for 5 minutes
Heat the maple syrup, remaining 1/2 cup of water and the salt in a saucepan over medium-high heat, stirring occasionally, until the syrup reaches 238F on a candy thermometer.
With an electric mixer fitted with the whisk attachment, whisk the gelatin on low speed, adding the syrup in a slow steady stream down the side of the bowl. Whisk, gradually increasing the speed to high, until the mixture has almost tripled in volume, about 6-8 minutes. Whisk in the vanilla.
Transfer to the prepared pan. Smooth the top with an offset spatula. Let stand until set, at least 4 hours.
Once the marshmallow block is completely set, pull it out of the pan using the parchment paper handles. Combine the tapioca and powdered sugar and dust the outside of the block of marshmallow. Cut 16, 2-inch square marshmallows using a serrated knife. Coat the blade of the knife with any remaining tapioca as needed to help with the cutting.