Yiddish Kitchen Bagels are HERE!!!!
Today, March 8th, marks the anniversary of a very special book baby, The New Yiddish Kitchen, which Simone, of Zenbelly, and I released one year ago! To publish a book alone is a feat; to publish one alongside a co-author, is really a special event. Raised alongside our own Jewish bubbes, this book was very personal to us both and something we felt especially nostalgic about when sharing with you.
Over the Summer, as many of you remember, "life lessons" hit hard when Zenbelly and my intellectual property was stolen and sold for profit. It literally made my sick to my stomach for weeks and contributed to other physical symptoms that I'd rather live without.
I wish I could come to you all these months later and report back that the person who ripped off our recipe and who has been selling it had a change of heart and wished to right his wrong. Unfortunately that is not the case. What's done is done. 
After the initial shock wore off and the adrenaline had begun to stop pumping quite as hard, there was a message I kept receiving over and over in my mind….
"Don't look over your shoulder at what others are doing, create what YOU want to see in the world, make it with love, and do it even better."
You see, I had wanted to produce some products prior to this point and the timing was not quite right. I lacked confidence, and what I thought was ability to execute it all. But in the end, I knew it was something I had to go for: take the leap of faith and figure it out as I went along. After all, it wasn't the first time I had to create my own path (cue health crisis).
It was that pivotal moment that I decided to just do it and believe the stars would align in such a way that karma, G-d, the universe, or any combination of the above would get my back. And Legit Bread Company was born.
Are you bored yet?! Then keep reading. Our bagels from The New Yiddish Kitchen are STILL being sold for profits that aren't ours and they've received rave reviews again and again. But once more, "don't look over your shoulder…."
If you missed the original announcement, here it is again – THE ORIGINAL BAGELS FROM THE NEW YIDDISH KITCHEN will be shipped ALL OVER THE COUNTRY. Paleo On The Go will deliver these to your house starting one week from now. They are deliciously perfect and are made with love, not stolen material. I am so excited about this partnership and they are united with us in ethical business.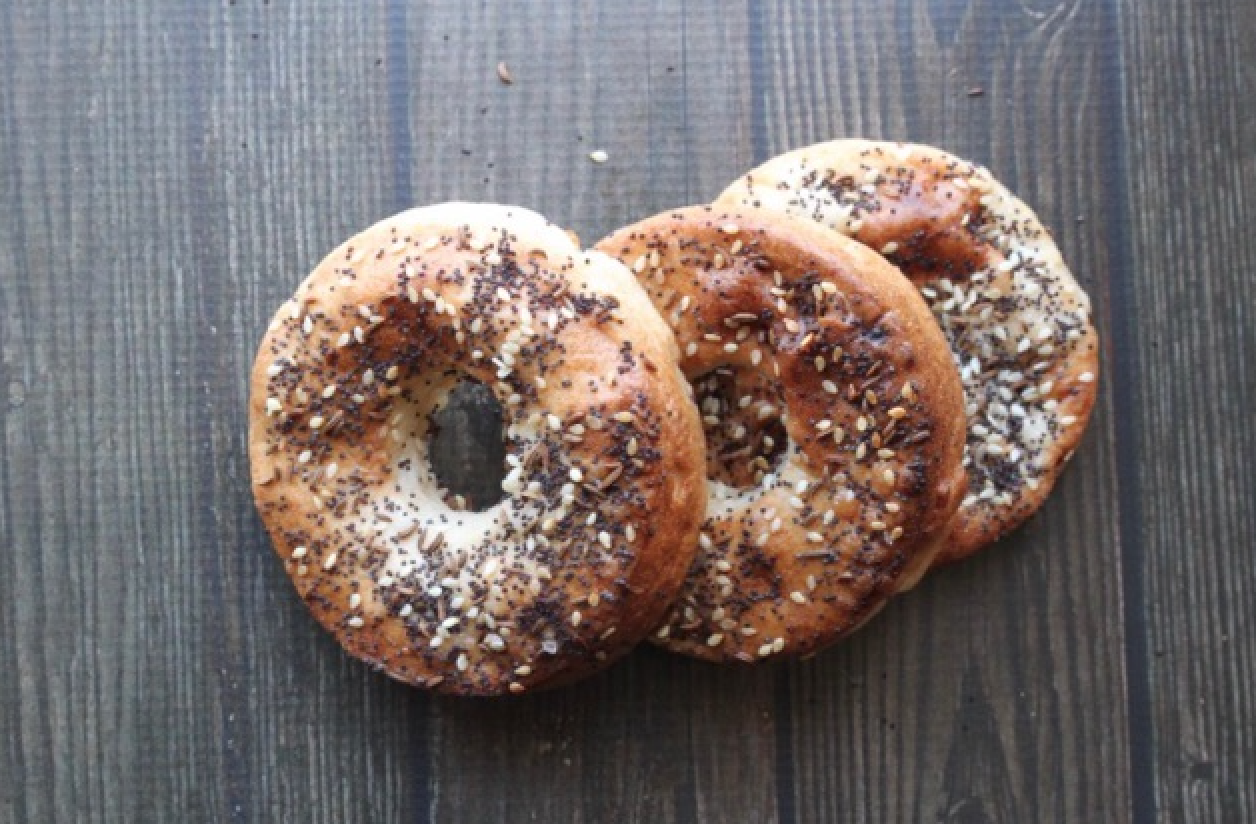 You will be able to purchase the mix separately, through Legit Bread Company if you wish to do that as well. The mix is slightly different than the Yiddish Kitchen bagel recipe and is nut-free for those sensitive. It will launch in a couple of weeks.
I want to take a moment to thank EACH AND EVERY ONE OF YOU who have supported us from the beginning. I am so proud to have witnessed the unity and the heartfelt messages from you over these months. I am touched beyond words and grateful beyond belief.
Thank you for helping me find the confidence to plant my dream and grow it. As it turns out, I do not need to "look over my shoulder" because the path I am paving for myself is far more delightful. 
You can go grab your READY TO EAT BAGELS HERE! If you need a matching CARBE DIEM shirt to match your bagel fest, don't forget about our online store HERE!