Looking for another budget meal? Add these Air Fryer Grain Free French Onion Meatballs to the menu; they're cost effective and delicious!
---
I would like to take a moment to pat my own back. Not because I actually deserve anything for sticking to our budget, but because I'm surprised I actually did. After working 7 days a week, helping the kids with homework, and cooking dinner on weeknights, my favorite thing to do is literally have someone else do the cooking all weekend long.
While it sounds possibly reasonable, my family of 5 can drop a LOT of money on a meal, even if it's burgers. So when we made a commitment to go on this fiscal diet, I was a little worried about 1. how burned out I might get cooking those extra meals and 2. how uninspired my actual meals would be.
Truth is, I've gotten more creative, maybe out of necessity, and have been trying to come up with budget friendly meals that are packed with flavor so we don't get bored. And while we allow ourselves one meal "out" (read: delivered) a week, some weeks we don't even take that liberty. More wins.
Want more? Last weekend our meal was paid for by furniture that I'm purging on FB marketplace, so it technically was free. Or something like that. Ok these meatballs. Let's discuss.
Grass fed ground beef: $5.99 on sale at Sprouts
Coconut aminos: Had it in the fridge
Primal Palate French Onion Seasoning Packet: $1.99
Swiss Cheese: $2.69
Mashed Cauliflower (made from riced cauli): $3.29
______________________________________
Total: $13.96 divided by 5 = $2.79 per person
And the best part, totally delicious. Not boring, and everyone is happy and full. Plus they got promised a brownie from my recipe development for Legit Bread Company so all is well in the world. Need more meatballs? Try THESE Air Fryer Teriyaki Stir Fry Meatballs, you'll be glad you did!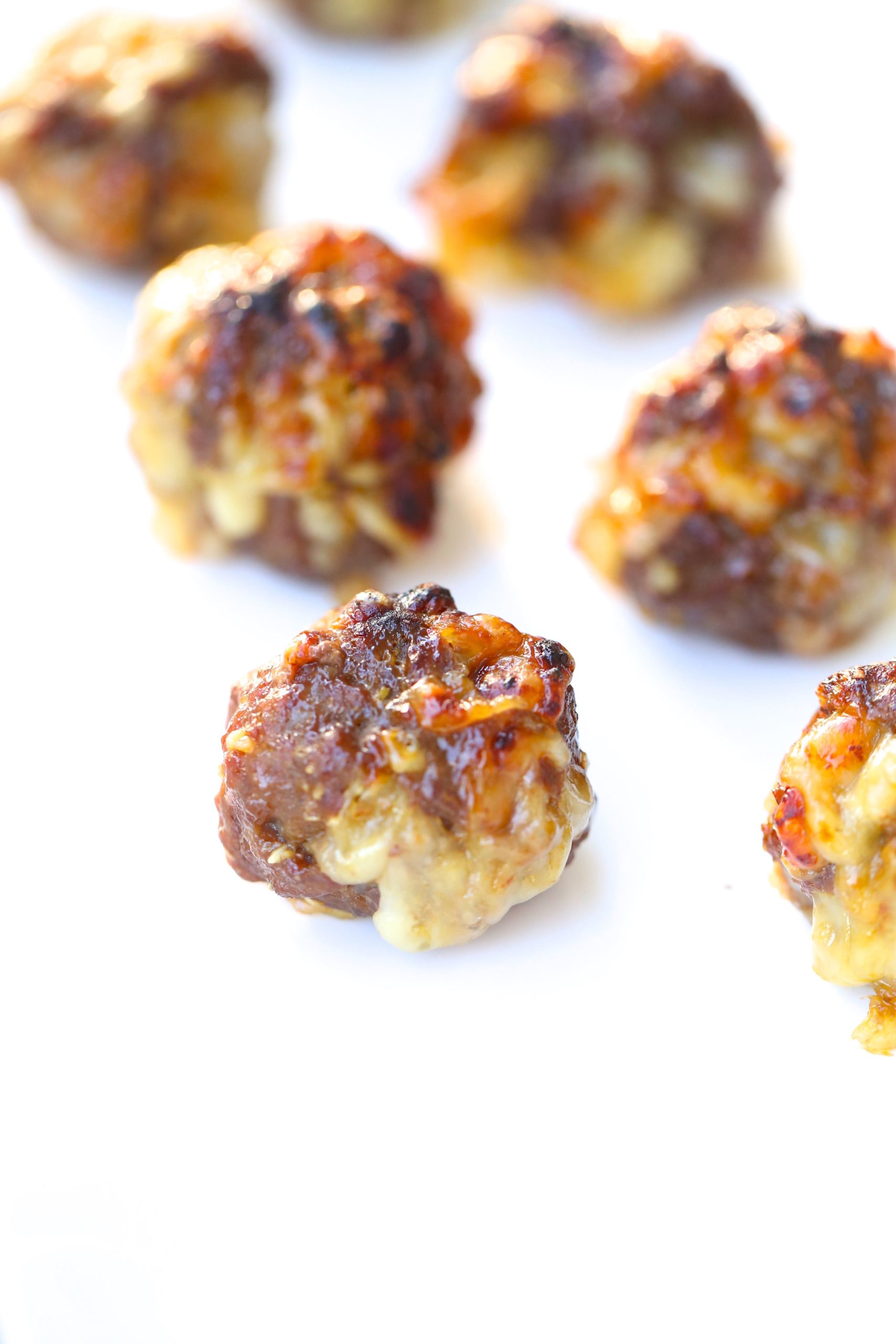 Print
Air Fryer Grain Free French Onion Meatballs
Instructions
Combine all ingredients in a mixing bowl
Scoop out a small amount and form a 1-2″ meatball
Repeat until your Air Fryer tray is filled
Cook at 375F for 9 minutes
The meatballs will be cooked through and the cheese will be bubbly and caramelized