Oh my Goodness!!! Not ever in a bazillion kajillion years did I imagine plopping myself in front of a VIDEO Camera to talk about Yuca! I mean seriously, 2 years ago I practically needed a life coach to help me boil a pot of water, and now I am posting videos about how to cook random tubers?!?!!? I may have lost my mind altogether, but it's true…
I HAVE A YOUTUBE!!!!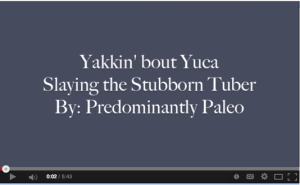 So here's the scoop…I have had many MANY readers send inquiries about working with yuca. It can be a little tricky and sometimes a little sticky. And furthermore you basically have to saw off its waxy tree bark before you can even get to the good stuff. BUT, once you get the hang of it, it is a MAGICAL little root that is VERSATILE as all get out.  I gathered up enough courage to put this on film because it is an amazing Autoimmune Paleo friendly solution to recreate many mainstream favorites.  With yuca, I have enjoyed egg rolls, empanadas, pop tarts, chocolate filled ravioli and on and on. I have found that once I started working with yuca, the possibilities were endless. I have gotten more and more excited about it with each recipe I post and I hope with this video that your enthusiasm grows as
Check it out! If you don't find yourself falling in love with yuca, you will at least get a kick out of watching my amateur attempt at video making!! Enjoy!!