When you can't decide between a Purim Hamantaschen and a Jewish diner, you blend them into a Paleo Bagel Dog Hamantaschen and the world is right again.
______________________________________________________________________________
I've been slacking on recipe writing. I've been slacking on everything really, except for my focus on healing and moving. It's intense being a military spouse sometimes, especially one with chronic illness. This isn't a sob story or a feel bad for me cry for help, but it is an admission of the fact that sometimes my world has to close in and become very small in order for me to survive it.
But for the last 3 days, I have been spending more time out of bed, the temperatures have been "warm" enough that I can go outside without wanting to move to Mexico, and I was even able to chalk paint a new-to-me secretary desk (cuz you know I love a good project). So in light of my consecutive days spent vertical, I am joining the living world of bagel making and hamantaschen noshing and bringing you this gem.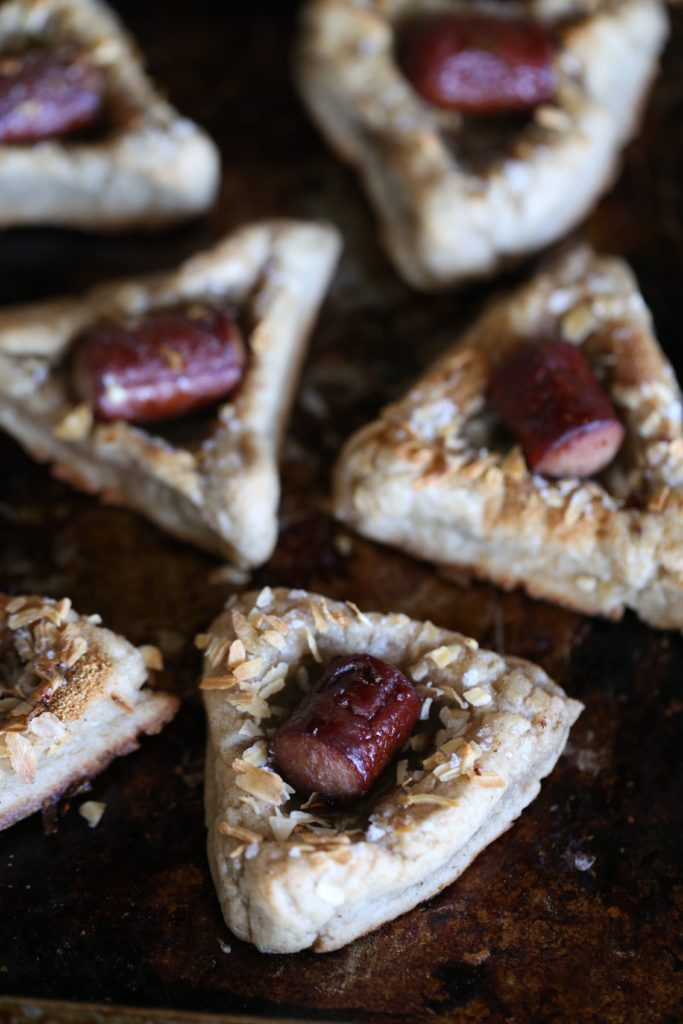 If you are the proud owner of The New Yiddish Kitchen, you know we have an amazing Bagel Dog recipe in there as well. The exciting thing about this one is that it is AIP compliant too if you use the Allergen Friendly Bagel Mix from Legit Bread Company. Otherwise it is still paleo, nut free, and egg free if you use the original Bagel Mix.
And if you don't have the book and love a good sweet hamantaschen, you can find it HERE! It's packed with your favorite Jewish recipes for all the holidays, minus the grain, gluten, and grepts.
Print
PALEO BAGEL DOG HAMANTASCHEN
4

grass fed hot dogs (check for AIP compliance if necessary)
Water

1

packet quick acting yeast

1 tablespoon

honey

1

package Allergen Friendly Bagel Mix (for AIP option) or Original Bagel Mix (for Paleo)

1 tablespoon

apple cider vinegar

3 tablespoons

dried onion flakes

2 teaspoons

garlic powder
Flaky sea salt to taste
Instructions
Preheat the oven to 425F and bring 8 cups of water to a boil with 1 tablespoon of apple cider vinegar
Empty the bagel mix into a bowl and bloom your yeast (according to the instructions on the bag of mix) in a separate small bowl
Now slice your hot dogs into 1-2 inch pieces
Once your yeast has bloomed, pour the yeasted water gradually into the dry mix and stir until you have a clay like texture
Take 1/12th of the dough and shape the hamantaschen base by forming it by hand in the shape of a triangle
Then press down in the center so the triangle has a "basin"
Drop the triangle shaped dough pieces a few at a time into the boiling water
Allow them to boil for around 3 minutes then remove them with a slotted spoon (being careful to empty out any water from the "basin") and place them on a greased, parchment lined cookie sheet
Place one hot dog piece in each of the hamantaschen centers and sprinkle with the sea salt, onion flakes and garlic powder
Now bake for around 15-20 minutes or until they turn golden brown