Summer is the season of beach trips, kids running amok, and moves! Here are some of my seasoned tips for making moves a little less stressful, even amidst major change. Here are my moving hacks for less-stress moves and relocations at your fingertips!
Research – Before the Move (3+ Months in Advance When Possible)
Being in the military, the decision WHERE we move is made for us; but that doesn't mean I don't research the heck out of our new destination. Here are some of the things I look for once we find out where we are moving:
Keep a Notebook – I'm a little old school in the way I keep my ducks in a row, but I keep a moving notebook where I jot down potential homes, activities, restaurants, and other helpful local info as I learn about it as I go.
Where are the Preferred School Districts Located – I am a big fan of public schools and prefer them over private. I start looking at homes for rent/sale on sites like Zillow, Redfin, and Realtor.com and always scroll down to the schools the homes of interest are zoned for. Using these websites typically helps me narrow down areas or neighborhoods and get a feel for a new city. It can also be helpful to talk to people who already live where you are moving and speak to a realtor to learn more about the different areas. With a trusted realtor who was referred to us, we were actually able to find a safe house (no mold) sight unseen before we ever arrived in Tampa. If you are a homeschool family, this is also a great opportunity to look into networks in your new city so that you can reach out and connect prior to your move.
Activities for Kids – As early as it may seem, I start researching area sports, activities, and social opportunities as soon as we find out where we are moving. This helps me get a grasp on managing expectations upon our arrival, as well as laying some of the groundwork for activities we can do as a family once we arrive in our new city. I also find that digging into the local scene can help with finding areas of interest for the actual move in transition. Example: I have put my kids, when younger, in the YMCA Summer camps, which are available on a weekly basis, so that as we accept our shipment and move in, they can be occupied and making new friends during crucial weeks. It's also good to know what sports are available if your children have a particular skill/sport they wish to continue in their new city. Google is your bestie.
Restaurants – I am a big fan of convenience. As a work at home mom of 3, I want to know in advance, how close are the local groceries and where can my family eat a gluten free meal in the vicinity of our new home. I start looking these up almost immediately, well before we ever set foot in our new town. I actually write down a lot of this information as well so that I have it handy. Find Me Gluten Free is a great website if you are seeking out gluten free eats. Trip Advisor can also help with people's reviews of what's in the area. We also use those first weeks of transition to explore the local food scene and try new places. Don't be shy, call ahead to restaurants if your food sensitivities are "extra" to see how they may be able to accommodate you.
Grocery Shopping – I like to know what I'm getting into if you know what I mean. I've lived in a variety of places like the thriving metropolis of Washington DC with plenty of options, to a small village in Germany with a local gluten filled bäckerei and not much else. It's good to know what stores await you, in my opinion, and also find out what conveniences (or not) are there. I am also EXTREMELY fond of grocery delivery. I have been using Shipt.com for years and even in more rural areas, I've been able to get groceries delivered right to my doorstep. During busy times, brutal winters, and periods where I've been too sick to shop, this has been a lifesaver. If you'd like to learn more and get $50 off sign up, go HERE to check it out.
Finding Healthcare Professionals – As a girl with chronic health conditions, and a mom of 3, I want to make damn sure I know what is available to me in the way of functional medicine in our new town. As soon as I catch wind of where we might be moving. It is important to me to also find a pediatrician for the kids who aligns with my values and goals. I read lots of reviews online and ask around in advance. I also set up doctor appointments for when we arrive to get the ball rolling, especially when it comes to medical and dental forms that need to be submitted for school enrollment.
Finding a Safe Home – This one is tricky. If you haven't read my mold post, you can definitely start there, though truthfully, it is impossible to do that sort of extensive testing when looking for a new home (on every home). Every house will have SOME mold. Every house will have a history of a leak or a patch of fungal growth. Mold is a naturally occurring substance that is not always but can be very dangerous. So a few things I do are: a) talk to the owners if renting, or ask through the real estate agent if there is a history of mold or water intrusion. It is required by law for this to be disclosed so hopefully people are forthcoming. b) once narrowed down to your top choices, you can do some of the testing methods including ERMI/HERTSMI, swab, air testing. c) hire a trustworthy inspector – if you are buying a home, your home inspector should be able to look for signs of water intrusion. We were actually under contract on a home here in Tampa and the inspector discovered there was moisture coming up through the slab and revealing itself ever so subtly in the wood flooring. Having a good home inspector made all the difference in the world.
Prep – Leading Up To The Move (2-3 Months in Advance)
Purge: 2-3 Months in Advance – After the research phase, I start getting busy. One of the first things I do within my existing home is start tossing like a mad woman. I go through the kids clothes, toys, our household furniture, etc and either donate or sell up to 1/3 of our belongings. For this move in particular, we would be moving into a home without a basement for the first time in 10 years!!! That means less storage and less hiding places for junk! We also moved into a house with a one car garage so that means getting creative for tools, bikes, scooters, and other "overflow" items. I tend to sell pieces of furniture and items of value that can help off set the cost of moving (and sometimes having to buy different furniture pieces in the new place). I typically use Facebook Marketplace, Nextdoor, and Craigslist to sell online. There are also apps like Letgo as well. I have held garage sales but find that I prefer to donate smaller items and just list larger/more valuable items online. I also sell more valuable clothing items through The Real Real and Poshmark online.
Plan: 1-2 Months in Advance – I also, and yes this is neurotic, sketch out primary rooms of our new home where we'll be living. I do this so I can draw in our existing furniture to confirm what we may need to leave behind or plan ahead as to what we may need to buy. I find this helps us save money, make money, or limit spending, as well as help settle us in faster once we reach our destination. I like to set up house fairly quickly so planning the placement in advance really speeds along the process that can otherwise drag on forever. Don't forget to get photos of the kitchen so you can preemptively decide how to sort that monster!

Sort: 1-2 Months in Advance – This may seem like WAY too soon to start taking down photos from the walls and packing up belongings, but if you are moving multiple people in your home, it can take awhile to get this party started. At this time I start placing items aside that need to go in our car including:

Medical Paperwork
Items from your Household Safe
Essentials you need En Route
Suitcase or Duffle for each Family Member
Must-Have Kitchen Items like your Instant Pot
I also start pulling down art from the wall and placing it in a designated area as well as filling in nail holes and touch up painting. There will be a final touch up paint job once the house is emptied and cleaned, but I like to work in phases. Clustering the artwork typically ensures it is packed properly and also kept together so when I open it in the new house I can place it accordingly.
One of my favorite "secret weapons" for keeping things organized during our moves, is to empty each dresser drawer into its own zippered packing pouch with clear "window" and label. I also pack my linens and stuffed animals this way. This is essential two-fold:
It helps keep things sorted so that I just have to empty them drawer by drawer into our dressers on the receiving end
It helps prevent clean clothes from becoming soiled with packers/movers dirty or smoky hands and sweat (I know that's kind of yucky but it gives me some control and helps prevent excessive laundry on the receiving end)
I am telling you THESE zippered storage bags have saved my life time and again. Find them HERE and order more than you think you need!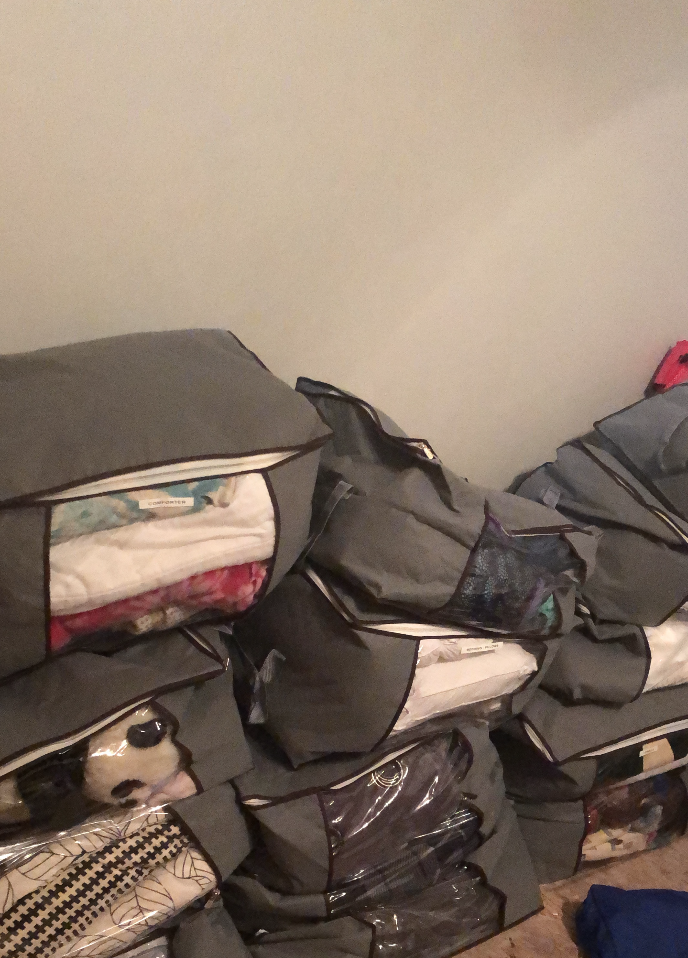 Organize – Just before the Move (2 Weeks in Advance)
Now you're getting so close the gut butterflies are in full swing. You might find yourself wondering if you've forgotten something really important or if you might be legit losing your mind. Here's what I do…
Set a NO PACK ZONE – This is an area of the house that will not go on the moving truck or in the pod or in the Uhaul. This is the stuff that you want in your own vehicle. Find an empty bathroom or an area of the house where you can "stage" what you need that is off limits to the packers, movers, and anyone else that will be handling your belongings. Don't forget to pack:

Prescription Medicines
Clothing
Paperwork/Safe Contents
Medical Records
Things you may need to close on a house if you are buying (tax returns, lease agreements, previous closing documents, proof of identity documents)
Activities for children in transit
Valuables like jewelry, electronics, phones, ipads
Snacks for travel
Household plants
2. Color Code Rooms – Print out and laminate the room names of your new house and color code them. For example: Girls Room printed in yellow on laminated paper would correspond with yellow stickers that can be adhered to the boxes coming from that room. It also helps movers self-direct as they unload the truck since this can be a hectic time.
3. Prep for the Actual Road Trip – Aside from stops and overnights if you are moving across state lines (or further!), make sure you have everything nailed down for the trip. If you are traveling with children, I find that depending on their ages, it's nice to have activities in the car like Car Bingo, little prizes to open up along the way, coloring books, and kid-friendly pit stops to make the transition more enjoyable (for everyone!)
Arrival and Unpacking
This can be equal parts fun and painful, depending on how much prep work you do along with a flexible can-do attitude. I can honestly say we've had some emotionally taxing moves and I have learned to become MUCH more flexible than I am instinctively, which has really helped. Here are a few other tips recommended for setting up in your new digs…
Catch your Breath – if you do not have access to your home right away or you have time to kill, use this opportunity to catch your breath before the madness begins again. In our case with this particular move from Illinois to Tampa, we did not get our household goods delivered for a MONTH! This definitely left us feeling unsettled but also gave us an opportunity to explore the area, visit some of the local attractions and eateries, and be tourists in our new city since we had never been here before.
Prep your New Home – as soon as you have the keys to your new digs and do a walkthrough, I also recommend getting set up for the movers/moving truck. This includes buying water bottles for the movers to stay hydrated, hanging your color coded room labels (see above), and bringing in the contents of your vehicles that you may have moved yourselves. I also like to order refills of cleaning products and do a once over before my contents arrive. My favorite plant based, nontoxic cleaning products are Branch Basics and their system makes it even easier to move with/replace once we hit our new destination. Find their products HERE to see why I love them so much.
One Room at a Time – Ask yourself, which room do I need to set up first in order to feel most settled? For me, it is my office and bedroom. It gives me a sense of order and peace. This is important after the upheaval of moving and feeling wobbly. Once you decide on that room(s), focus on those until you are ready to move onto the next place. For some, the kitchen is the most important so they have a place to cook right away. Because I was asked this question specifically (How do you know where to place things in a kitchen?), I want to address it. We typically will arrange cookware and cooking utensils closest to the oven, dishes and flatware closest to the dishwasher, and storage containers wherever there is room. We prioritize based on the first two placements and then fill in wherever is warranted.
4. Staying Motivated – I was asked how I convince myself to fully unpack in my new home, when moves are so frequent. The answer is I put all of my energy into that and only that when I first move in. I do not try to take on socializing or cooking or extracurricular activities in the beginning. I hang up art right away, roll out rugs, place furniture, and start unpacking boxes. And I don't stop even if it means eating frozen meals and leftover GF pizza for a few weeks. As I type this we have been in our home for 1 day shy of 2 weeks and we are 99% unpacked. There are a few books that need arranging on bookshelves and a few boxes that need final sorting, but this has been the only thing we have focused on for these two weeks. It is the utmost priority so that our house can become a home. Some people feel very comfortable taking their time; I think finding what makes you feel content and secure is the way to go – for me it's fast and furious!
5. Make Mealtime Simple – In those early days of settling into a new home, I know that my days will be long and by dinner time there's not much left to give. So I keep things simple and convenient. I often have groceries delivered and stock my freezer with frozen healthy options we can heat and eat. I try to keep an Instant Pot nearby and also actually pack my cookbooks so I have access to those.