When I tell you that this Protein Rich Crustless Quiche might be one of my new favorite meals for any time of day, I mean it! Savory and filling plus 16 grams of protein in one slice!
---
I know I know, everything's about protein right now with my recipes. But y'all, I'm really trying not to shrivel up and I am learning so much about how vital protein is for an aging body so I'm all in! If you missed my Gluten Free Chocolate Peanut Butter Protein Bread [3] or my Protein Packed Salad Dressing [4], make sure to check those out too!
This week so far I've made my Chicken Lettuce Wraps [5] and my Paleo Cowboy Chili [6], both favorites of everyone who tries them (I mean for the most part – some people clearly have no taste). And I wanted to make a quiche tonight, or something like it. Recently Sadie, my middle, told me how much she loves sauteed zucchini so I figured that would be a great addition to this quiche. And then I started thinking – what if I loaded up the protein in this dish like I have in my other new recipes lately, and off I went.
I was curious how cottage cheese would do in quiche if I blended it until creamy and OMG, it's fantastic. So between the 14g protein in that, the 36g in the 6 eggs, the 18g in the collagen, plus the cheeses and bacon, we're talking about 16g of protein in 1/8 of the pan! And if you eat more like my kids and husband do, you're upwards of 30g or more protein in your dinner. It's so filling and delicious too – I think making this ahead for breakfast and pulling out a slice throughout the week might just be my next plan.
So if you're also trying to figure out ways to increase your protein consumption, give this one a go – I think you'll be shocked just how much flavor AND protein is baked into one pan.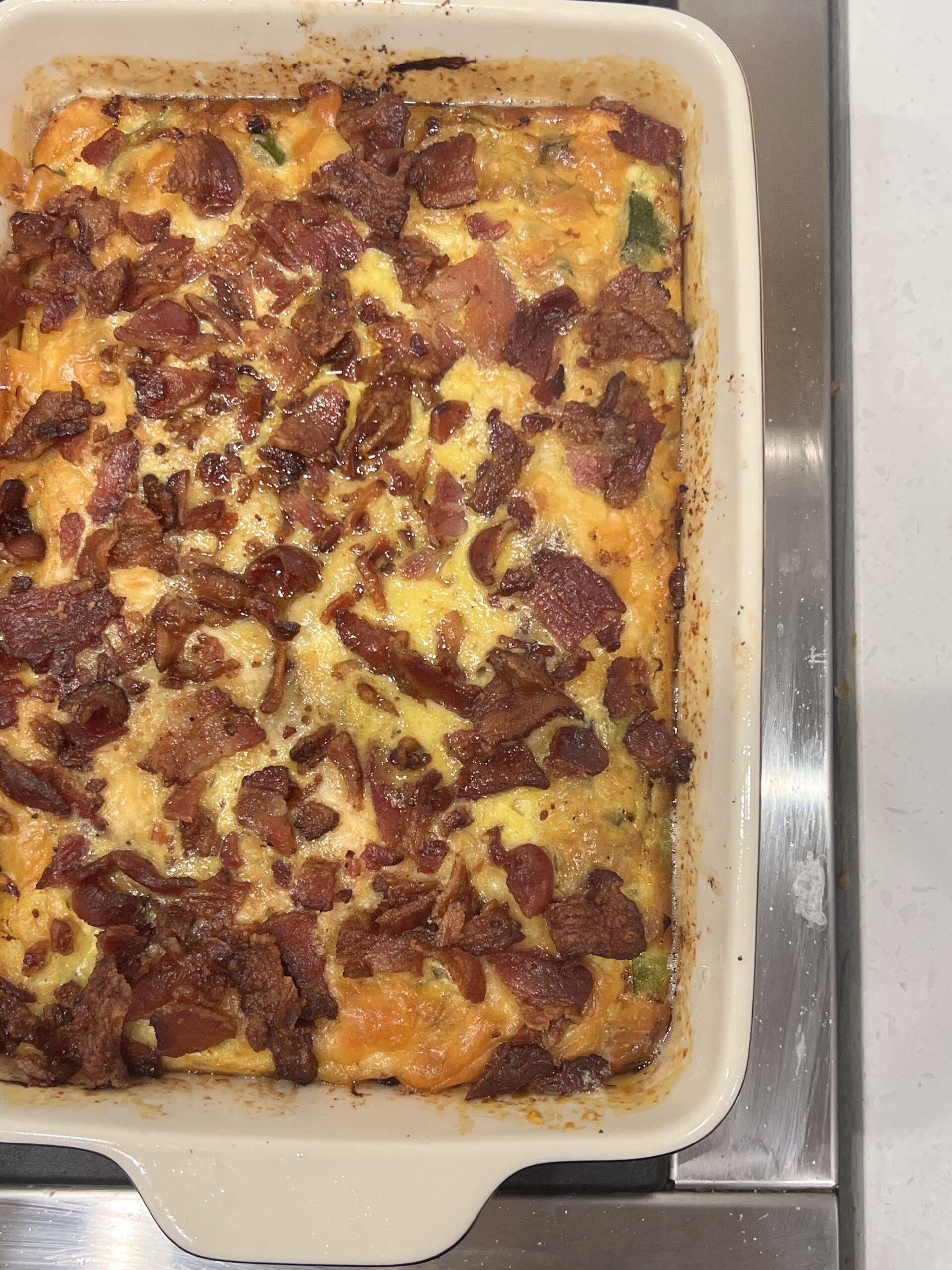 Print
[2]
Protein Rich Crustless Quiche
6

eggs

8 ounces

shredded Swiss cheese

2

scoops grass fed collagen [8]

3

zucchini squash, chopped and sauteed

1/2 cup

cottage cheese

1/4 tsp

each – Ground black pepper, onion powder, garlic powder

8 ounces

cooked bacon, chopped

1/3 cup

shaved parmesan cheese
Instructions
Preheat oven to 350F
Combine the eggs and cottage cheese in a mixing bowl and use a stick blender to blend until smooth
Add in all remaining ingredients except for the bacon and parmesan
Stir then transfer into a medium casserole dish, exact size/shape not important
Bake for 20 minutes, then carefully pull out oven rack with casserole dish and sprinkle the parmesan shavings and chopped bacon on top
Bake for another 20-30 minutes or until the center of the casserole is cooked through and an inserted toothpick comes out clean
Slice and serve