Salt Lick BBQ in the Lou
Today was the 3rd day in 6 weeks my husband was able to take a day off of work. Because he directly oversees disaster relief, we have had lots of long hard days since moving back to the Midwest. We've been in survival mode which means much less time for fun stuff and exploring and lots more "just getting by". But today we were gifted with the most beautiful weather and an excitement to drive to the city, St Louis, which is around 30 minutes from here. Our mission: take the kids out for gluten free donuts! So we drove back to our favorite donut shop (and the only one to serve gf donuts that we know of here), Strange Donuts and picked up some treats while we sat on a bench at the Kirkwood Farmers Market . 
My husband checked in briefly with his coworker, who exclaimed, why would you be getting donuts, when you could be eating Q in the Lou?! At that point we figured, why not do both! So we headed downtown and rolled up to this beautiful view of the arch.
It was right at that moment that I looked up and saw a sight for my homesick eyes… a Salt Lick BBQ stand in the middle of St Louis. If you are a native Texan like I am, or even if you are a big fan of Austin, you know gosh darn well what Salt Lick is and make a bee line for it every chance you get.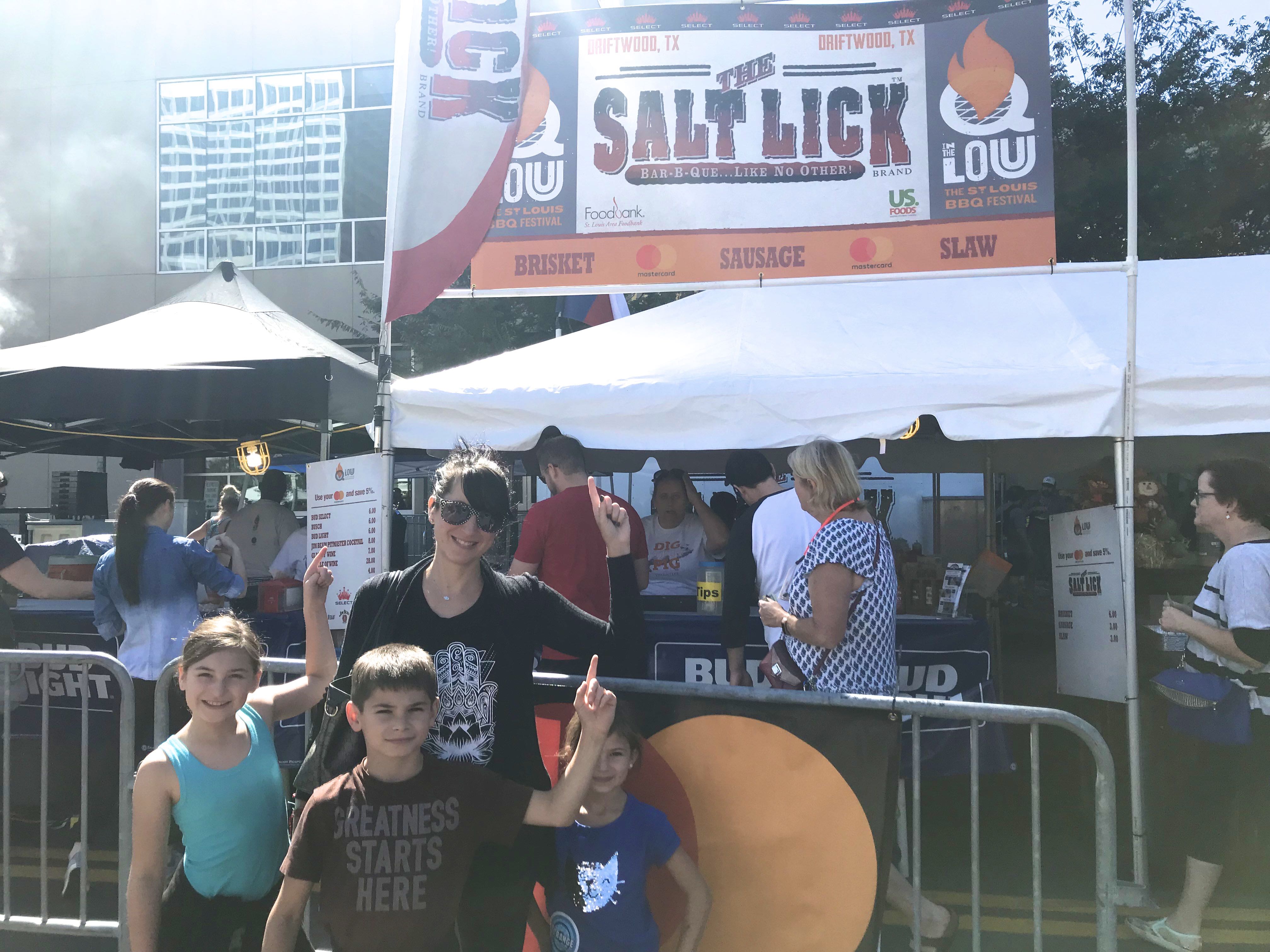 As we hustled to get in line, the longest line at any BBQ stand I might add (duh), I could hardly stand the wait to get that only-in-Texas, melt in your mouth brisket. And that's when life got even better. My husband leaned over the railing and told a handful of Salt Lick outfitted BBQ professionals, "My wife is a native Texan and is so excited we found you here." Guess what happened next!? Mr Wilson, who could not have been more accommodating, pulled us into the "VIP" section where we were treated like family, ya know, cuz that's what Texans do, even when you are displaced for 13 years by the military. We ate the most amazing brisket, cold fresh cole slaw, and *snap* in your mouth sausage that only the pros know how to smoke. And just when you thought it couldn't get much better…
Mr. Wilson showed my kids over to the smoker where there were no joke, 100 briskets that smelled what I imagine heaven would smell like. He opened the doors for us to take a gander inside and I got to hold one of those famous briskets with my own two mitts.
  After all of the hurricanes and watching family and friends dive head first into devastation, I needed a dose of Texas in the worst way, and this was it. I miss the authenticity of the people, the ease of making friends there, and naturally, the Tex Mex and brisket. If you are in STL this weekend, you must pay Mr. Wilson and his crew at Salt Lick BBQ downtown for Q in the Lou. And if you are lucky enough to live near Austin, or have any plans to visit there, don't walk, run. Not only will you be met with the best fall apart tender brisket, you'll also be met with hearts as deeply rooted in Texas as the word y'all.