Looking for a little kick in the pants? This Gluten Free Mexican Gumbo is hearty, savory, and has just enough heat to warm you up!
---
Does everyone else feel like they could take a 73 hour nap? Just me? Cool. This week has felt like many weeks and the truth is, it's just this time of year. The fun part? I spent two evenings with lady friends, and have life breathed into me. I mean can we talk about how glorious it is to sit by a fire pit in a Florida backyard under a pergola with snacks and prosecco? I am living for this. 
And because I hate meal planning, because that would simplify life way too much, I was scrambling like a crazy bish last night before I went to a gathering with another friend. I opened the fridge. Thawed ground beef. Score. What else do we have? Ah, a can of Rotel in the pantry. Sweet. Some frozen broth in the freezer. Yessss. And to really send you reeling…
RICE. 
Protect your young, shield your eyes, I put some rice up in hurrr and it was glorious. 
A few weeks back when I rescued that cute pup (whose owners were found, halleloo), I had a big bowl of Mexican Gumbo in my backseat that I had just picked up from QDoba. I've always wanted to copycat that recipe and I gotta say I came pretty durn close. For the minimal amount of ingredients this bad boy has, it is FLAY-VOR-FULLLL, just the way I like it.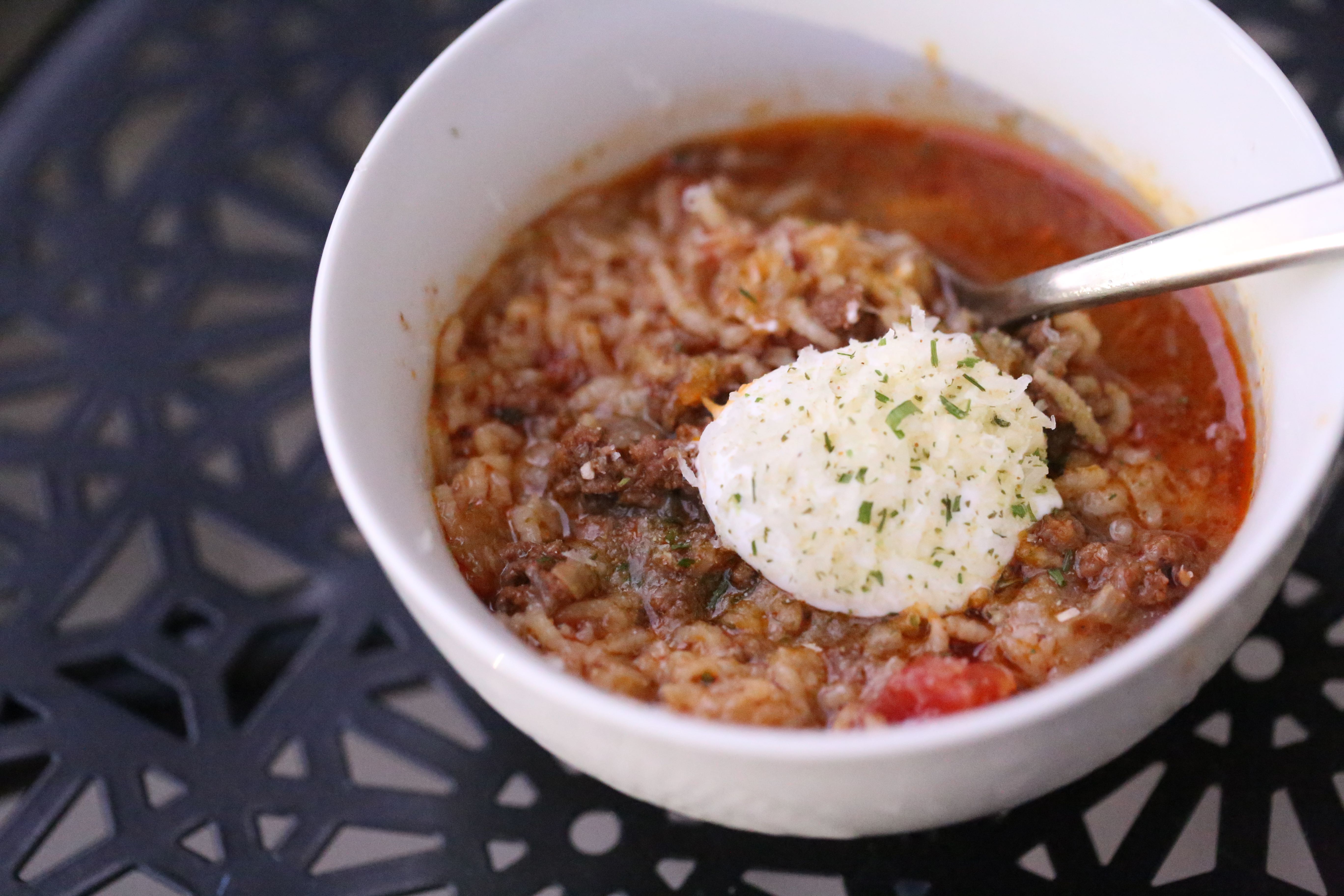 So I tossed it all together, fed the punks, and off I went for another evening of grownupping. It sure is nice to have a social life isn't it? It's been awhile for me. I am really enjoying not living under a rock. Praise be. Also I FINALLY FINISHED my Healthy Home Holiday Gift Guide and I think it took me longer to produce this than grow a full term human. But it's cool y'all. It's done and glorious and I am hoping someone will buy me things off my own guide. That's normal right?
Print
Gluten Free Mexican Gumbo
1

pound ground beef

1

onion diced

2 tablespoons

olive or avocado oil

1 teaspoon

garlic powder

1 teaspoon

sea salt

1 tablespoon

chili powder

1/2 teaspoon

cumin

1/4 teaspoon

paprika

1

(10 oz) can diced tomato and chilies

5 cups

beef broth

1 cup

uncooked basmati rice
Instructions
Press the saute button on your Instant Pot and drizzle the oil and add the onion
Saute the onion for 5 minutes and then add the ground beef
Break up the meat and cook for 5 more minutes and then add all remaining ingredients
Stir well, secure lid and press the Cancel button
Now press the Rice button and allow the soup to cook
Release the pressure valve and then remove the lid once safe to do so
Serve warm with OPTIONAL cilantro, dairy free sour cream, and cheese if desired