Look ma, no egg! These Gluten Free Egg Free Oatmeal Chocolate Chip Cookies still taste like home but are a bunch more allergen friendly for those who are on the sensitive side. 
---
I made an announcement (sounds so serious) this week about how I would begin incorporating a few grains (rice, oats) and some occasional dairy into my blog recipes. There are a few reasons for this and while I don't NEED to explain, I'd like to offer some clarification for those seeing this for the first time. 
From the beginning, my blog, which was actually never intended to be shared, was entitled PREDOMINANTLY Paleo to indicate my own focus and intention. I was trying to heal from a multitude of diagnoses and I was trying to come off over a year of intense antibiotic treatment. I had been gluten free in past years but knew I needed more. My focus was to work on providing my body basic fundamental nutrition in order to rebuild what was broken. 
My goal then, and now, was never to be militant with food. As a former ballet dancer and a lifelong sufferer of body dysmorphia, militant eating without wiggle room is dangerous for me. And because this blog was initially only ever to be visited by me, this was the direction I needed to go. 
Then something happened. People were finding my recipes and posting them on pinterest. I began making friends in the paleo community. And before long, I was considered a paleo blogger, regardless of what my blog titled described. I have received a lot of negative feedback over the years; including when I use "high quality storebought ketchup" as well as when my recipes call for potatoes. It didn't matter that my message wasn't received. It only mattered what people perceived – which was that I was a hardcore, no f*cks given, PALEO DIE HARD.
But I never was. My children are gluten free and mostly dairy free. I have rice in my house. I stock better brands of gluten free frozen pizzas so that in a pinch I have something easy to feed my kids. We eat potato chips and sometimes tortilla chips. And yes, corn is the actual devil, but this is real life y'all.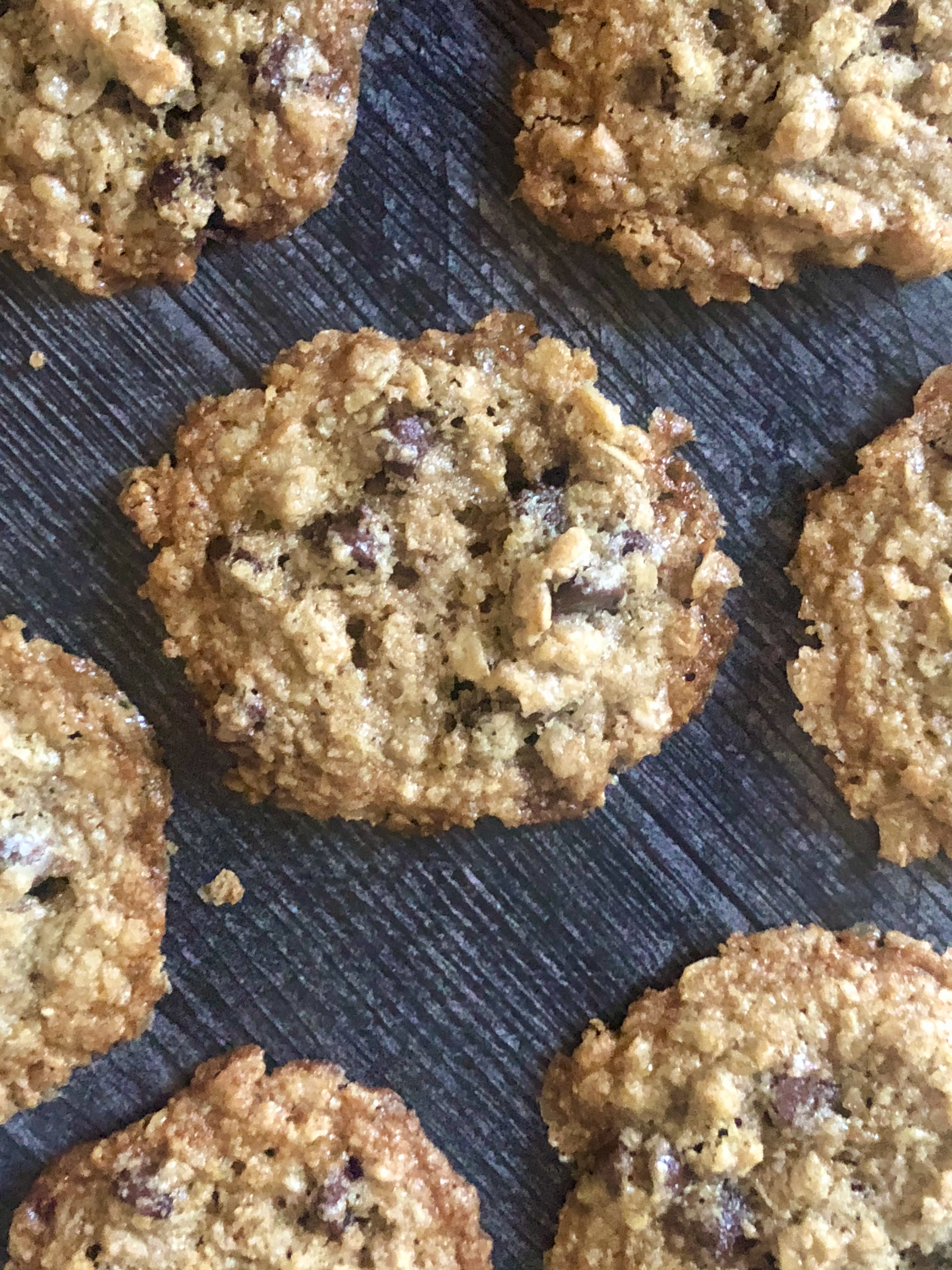 And because none of us has anaphylactic responses to foods or acute terrible reactions to anything, our general rule is: we do our best and make allowances for when we choose not to. 
So while this post is actually a recipe for Oatmeal Chocolate Chip cookies, it's also a declaration (again) of what you'll find here. You will see strict paleo recipes. You will also see rice. You may brush against some cheese here and there. And on occasion, you may even find a grain and a dairy in the same recipe. Try not to fall out when you do. You've been warned. 
I am not asking for your approval, really. I'm not asking for your two cents about how you came here for grass fed, free range cavepeople things and can't believe I use actual condiments from a grocery store and didn't grow my own rutabaga FFS.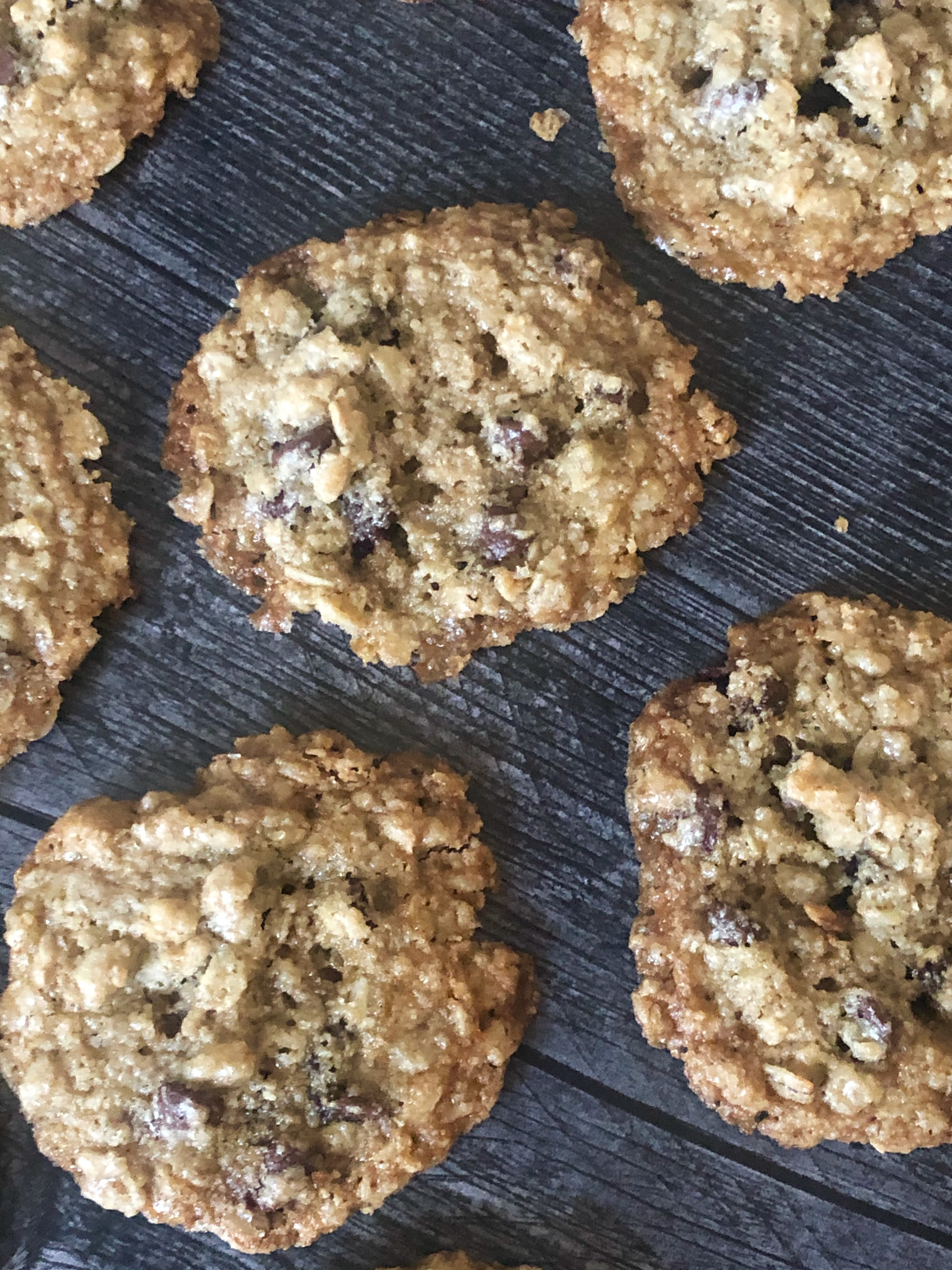 But if you are here for my 400+ recipes, realizing that some of them just might not be for you, WELCOME! And if you are here because you like sarcasm and sass, also WELCOME! Be on the lookout for more contraband discussion; like how I did my first chemical peel on my face because the benefits outweigh the risks. That blog post will be up next if you're looking to get really fired up and angry at the world. 
Print
Gluten Free Egg Free Oatmeal Chocolate Chip Cookies
1 cup

gluten free oats, ground into a flour (I used a coffee grinder)

1 cup

gluten free oats, whole

1 tablespoon

grass fed gelatin (not collagen)

1/4 teaspoon

sea salt

1/3 cup

melted ghee +

2

additional tablespoons

1/3 cup

maple syrup +

2

additional tablespoons

1 teaspoon

baking soda

1 teaspoon

vanilla extract

2/3 cup

chocolate chips
Instructions
Preheat your oven to 350F
Put all the DRY ingredients in a bowl, stirring to combine
Now add in the wet ingredients and stir, making sure all the ingredients are incorporated well
Make sure your cookie sheet is

greased

well
Next, use a cookie scoop to scoop around a tablespoon of the dough onto the baking sheet. Make sure the dough is packed well in the cookie scoop so the cookies will be solid.
Space the scoops around 2 inches apart, you may need to bake a couple rounds to get through all the dough
Bake cookies for around 10 minutes, they will start to get golden and spread
Remove the baking sheet from the oven and allow the cookies to cool slightly before gently transferring them to a plate. I use a thin, flexible spatula like THIS one since the cookies are delicate
Notes
I don't know what substitutions will work (or not). Please experiment if need be and let me know if you were successful!
If your dough is too dry (it won't be super wet keep in mind) you can add a bit more maple syrup